The latest trend for tech-savvy couples: QR code rsvp wedding cards! Today we'll tell you what a QR rsvp card is, how it is used, and how to make your own.
What is a QR wedding rsvp?
A QR code is a generated image that, when captured by a smartphone camera, goes directly to a website link.
Couples are integrating this modern technology with rsvp cards to make it easier than ever for guests to instantly submit a "yes" or "no" response to an upcoming wedding.
Instead of a traditional rsvp card, which is sent through the mail to guests with a pre-stamped, pre-addressed envelope to return, a QR code is a digital response system.
Thanks to the integration with a wedding website, QR codes make it easy to respond via a wedding website set up for guests. This can be done easily on their smartphones, making it more convenient for guests and you, since you won't be waiting for the mail to deliver all of those RSVP cards in the mail.
by memorable modern
If you like the idea of a QR code rsvp, but you're wondering how to do it, you've come to the right place. We'll show you exactly how to make a QR rsvp for your wedding guests to use and you'll love how easy it truly is!
Let's get started.
QR Code RSVP Wedding Tutorial
Here's what you need.
1. Get a wedding website.
First things first: guests need a place to respond yes or no to your wedding invitation. Get a wedding website with RSVP here for free (or get an upgrade for more features).
Once your website is ready, you'll receive a unique link. This will become an important URL and may look something like this: "https://www.yourweddingwebsite.com/emmaandandrewforever".
Copy the link/URL.
2. Make a QR code.
Now it's time to make the actual QR code you'll use for your rsvp cards. Make one for free at QR Code Generator. Simply paste the URL you copied into their uploader, which looks like this:
It will generate a QR code for you from the link you provide. Then, click 'download' and download the QR image to your computer.
3. Print the QR code onto rsvp cards.
Now you're ready to roll! Once you have the QR code, you're able to upload it onto a QR code rsvp card, which you'll use to send to your guests with your invitations. There are a few places to get QR code rsvp cards made and my favorite is Zazzle. You can browse designs to suit your style here. I've found simple cards to more elegant photo cards — so, the sky is the limit! Choose a design you like best.
One of my favorite designs is this one by Memorable Modern. It explains the QR code pretty easily to guests, informing them to send in their responses via the QR code or the wedding website you have set up. This is a great example of wording, since some guests may not be as privy to a QR code, so it also provides two alternate options: navigate directly to the website or email the couple.
customize yours here
If you want a more minimalist style, try this one by Shabz Designs: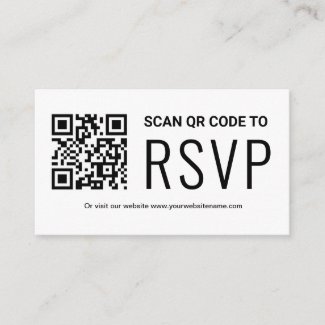 buy yours here
Also loving this modern and elegant design by Fotografixgal Designs:
get it here
See? It's easy to make QR code wedding cards! And now you'll be saving a ton of paper (+ postage!)
TL;DR
It's as easy as 1, 2, 3: get the website, make the QR code, and print the QR code onto rsvp cards.
It's so simple!
Tell us: are you using qr code rsvps for wedding invitations? Why or why not? Tell us in the comment box below along with any questions you may have. :)
Happy Planning!
xo
Emma